Event listing
Neighbourhood of Stories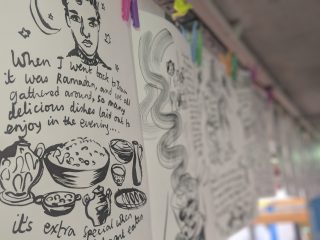 When
Jul 5, 2018 - Sep 9, 2018
Where
Migration Museum at The Workshop,
26 Lambeth High Street,
London, SE1 7AG
Summary
Thursday 5 July 2018 – Sunday 9 September 2018
11am – 5pm (open Wed–Sun, with late opening on Thurs 21 June until 9pm)
Migration Museum at The Workshop
26 Lambeth High Street, London, SE1 7AG
Free admission
These drawings have been made live, using ink and brush, in collaboration with members of the public. The hundred shown here are selected from over thousand that Sophie Herxheimer has listened to and drawn as part of an ongoing project over several years.
The process emerged following a commission in 2007 for The Thames Festival, to make a tablecloth for a public banquet on Southwark Bridge. For this, Herxheimer collected and then screen printed hundreds of food stories from Londoners at a thousand place settings along 300 metres of salvaged hotel linen. The project has since expanded, and as well as listening to and drawing stories about food, Herxheimer has developed questions about other themes such as home, and the journeys we make to get there.
Each story drawing takes about 10-15 minutes to make, and the narrator remains present and engaged during its realisation. Once the ink is dry the narrator is given a same size photocopy of the drawing to take away. Sometimes the process is intense and cathartic and sometimes more mundane, but every story is addressed with the same search for a synthesis between voice and experience, image and text. A search that has tipped Herxheimer further into her own poetry, as well as her own wonderful city.
The drawings are on display in the entrance corridor and along the balcony outside the Migration Museum at The Workshop from Thursday 5 July until Sunday 2 September.
About Sophie Herxheimer
Sophie Herxheimer is an artist and poet. Her work has been shown at her local allotments and at Tate Modern, at The National Portrait Gallery and on a 48 metre hoarding along the seafront in Margate. She teaches for The Royal Drawing School and the Poetry School. Her most recent commission has been to make new portraits of 25 essential poets for The Poetry Foundation in Chicago. Her work has been published in Poetry Review, Tears in the Fence and Wasafiri Magazine amongst others. Recent books include Velkom to Inklandt, which was selected as an Observer book of the month and a Sunday Times book of the year (Short Books 2017) Your Candle Accompanies the Sun (Henningham Family Press 2017) and forthcoming this September: The Practical Visionary, with Chris McCabe, (Hercules Press 2018)