Event listing
'Migration Series' call-out – by Dreph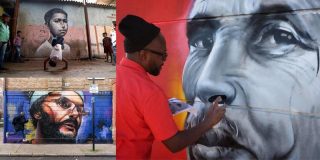 When
Jun 9, 2018 - Jun 9, 2018
Where
Migration Museum at The Workshop,
26 Lambeth High Street,
London, SE1 7AG
Summary
Portrait painter Dreph invites you to feature in his latest mural project – Migration Series.
Join Dreph to learn more about the project and potentially sit for one of his portraits.
Dreph is looking for first generation immigrants of all ages to feature in seven large scale portraits that he will paint on the streets of the UK. Bring a friend, family member or colleague whose story you feel deserves to be told.
The project aims to show the human face, and tell the stories of individuals from the communities that make up the UK's diverse immigrant population.
If you would like to attend this free event, we encourage you to register in advance via Eventbrite.
Click here to register (via Eventbrite)
Please note that this is a drop-in event, so you are more than welcome to drop-in at any time between 2pm and 6pm.
For further information, please email: info@dreph.co.uk
Find out more about Dreph and his Migration Series: