Event listing
A Polaroid for a Refugee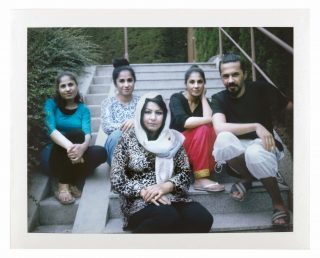 When
Jun 7, 2018 - Jul 1, 2018
Where
Migration Museum at The Workshop,
26 Lambeth High Street,
London, SE1 7AG
Summary
Thursday 7 June 2018 – Sunday 1 July 2018
11am – 5pm (open Wed–Sun, with late opening on Thurs 21 June until 9pm)
Migration Museum at The Workshop
26 Lambeth High Street, London, SE1 7AG
Free admission
As part of our activities for Refugee Week 2018, we are displaying a selection of images from A Polaroid for a Refugee, a project by photographer Giovanna Del Sarto depicting points of transition in the lives of individual refugees.
Since 2015, Giovanna has been visiting various locations across Europe which have seen large numbers of refugee arrivals, including Preševo and Belgrade in Serbia; and Lesvos, Athens, Idomeni and Chios in Greece. Her aim was to volunteer and be able to understand and be close to the people involved. On all of these trips, she took her Polaroid Land Camera with her and took pictures of people who asked to have their photo taken.
The Polaroids, taken by Giovanna since 2015, reflect the inner strength and dignity maintained by refugees during their long and harrowing journeys. For every Polaroid Giovanna takes, she gives one to the refugee as a reminder of the moment. On the back of the Polaroid, Giovanna left her contact details, along with a simple statement: "Wherever your destination may be – tell me when you feel you have reached a safe place." It is a project based on the concept of giving – giving something back to refugees, a moment of their life and journey captured forever.
As Giovanna explains:
"I love the idea that they will look at those pictures one day in the future. The portraits I took are very similar to family portraits, conveying a relaxed and carefree attitude that only scratches the surface of the refugees' lives. Yet the value for the refugee is to have this moment of escape from the horrors of their daily lives and to carry a reminder of it with them on their onward journeys.
"Everyone wanted their photograph taken, but for many different reasons. The young men loved to pose; the mothers wanted a picture to show their children when they're older; and the kids just saw it as a bit of fun. And for us who look at these images? We see a different side to the refugee crisis to the one we're usually offered. We see these people just as people, not as victims or heroes, not as refugees to pity or as migrants to fear. They emerge as humans, resilient, thoughtful, joyful individuals."
Since August 2017, Giovanna has started visiting people she photographed who have kept in touch with her and are now building new lives in Europe, as part of the second stage of her project. Even though people have 'made it' to their 'destination', some are struggling to come to terms with their journeys and their new lives and circumstances.
"Sometimes, it is common thinking that once you reach your destination or your aim, everything is magically healed," Giovanna adds.  
"I saw people on the way that did not have money, food or the means to carry on the journey but they managed. At what cost, though? Some of the people I met again are struggling to come to term with the memory of their odysseys."
A selection of images from A Polaroid for a Refugee will be displayed in the stairwell and entrance corridor to the Migration Museum at The Workshop from Thursday 7 June until Sunday July 1.
Giovanna will be speaking about her project as part of our Refugee Week late opening on Thursday 21 June.
For more information, please visit A Polaroid for a Refugee's Facebook page.