Event listing
Migration Museum Late – Neighbourhood of Stories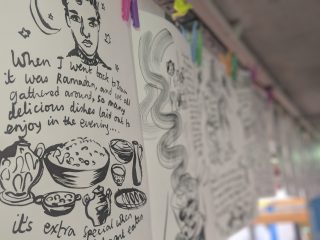 When
Jul 26, 2018 - Jul 26, 2018
Where
Migration Museum at The Workshop,
26 Lambeth High Street,
London, SE1 7AG
Summary
Thursday 26 July 2018 | 6pm–9pm
Migration Museum at the Workshop
26 Lambeth High Street, London, SE1 7AG
Free admission
Join Sophie Herxheimer on Thursday 26 July for a special late opening celebrating her Neighbourhood of Stories project, a selection of drawings from which is currently on display at the Migration Museum at The Workshop.
Neighbourhood of Stories is a selection of drawings by Sophie Herxheimer made live using ink and brush in collaboration with members of the public, listening to and drawing stories about food, home, and the journeys we make to get there.
Each story drawing takes about 10-15 minutes to make, and the narrator remains present and engaged during its realisation. Once the ink is dry the narrator is given a same size photocopy of the drawing to take away. Sometimes the process is intense and cathartic and sometimes more mundane, but every story is addressed with the same search for a synthesis between voice and experience, image and text. A search that has tipped Herxheimer further into her own poetry, as well as her own wonderful city.
Sophie will be talking about the project and the drawings on display.
Attendees will also have the chance to view our No Turning Back: Seven Migration Moments that Changed Britain exhibition, grab a drink and chat with members of the Migration Museum team.
Please invite family, friends and colleagues who may be interested – we look forward to seeing you.
A selection of drawings from Neighbourhood of Stories is on display in the entrance corridor and along the balcony outside the Migration Museum at The Workshop from Thursday 5 July until Sunday 2 September.