Event listing
Migration Museum 2020 lecture: Sayeeda Warsi and Shami Chakrabarti (chair)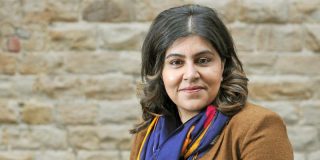 When
Jan 21, 2020 - Jan 21, 2020
Where
King's College London, Waterloo Bridge Wing, Franklin Wilkins Building,
Stamford Street,
London, SE1 9NH
Summary
Tuesday 21 January 2020 | 7.30pm–9pm
Kings College London
Lecture Theatre B5, Franklin Wilkins Building
Stamford Street, London SE1 9NH
Free – advance registration essential

Baroness Sayeeda Warsi is one of the UK's most interesting political figures. A lawyer by background, she was elevated to the House of Lords in 2007 and served in David Cameron's cabinet, the first Muslim to have such a post. She resigned in 2014 over her government's position in the Israel–Gaza conflict. Independent, outspoken and challenging, she has become a fierce political campaigner on many issues considered either taboo or unfashionable. In the 2016 referendum, she started out supporting the Leave campaign but withdrew her support shortly before the vote, accusing the campaign of xenophobia. She has since been vocal in her criticism of the Conservative Party for what she considers its Islamophobia.
Navigating often complicated currents of religion, immigration, national identity and cultural allegiance, she has faced both criticism and praise. In this talk, she comments on the journey she has taken and outlines the issues and challenges for a country that seems to have a troubled relationship with Islam.
The lecture will be chaired by Baroness Shami Chakrabarti, a colleague of Baroness Warsi's in the House of Lords, though politically on opposing benches.
Baroness Warsi's lecture will allude in part to her recent book The Enemy Within: A Tale of Muslim Britain, and she will be happy to sign copies of the book after the lecture.
Click here to reserve your place (opens in Eventbrite)
This lectures is being organised by the Migration Museum and hosted by King's College London's Arts & Humanities Research Institute, a leading institute promoting interdisciplinary and socially engaged research excellence.
Find out more about King's College London's Arts & Humanities Research Institute at www.kcl.ac.uk/ahri