Event listing
Migrateful – Gambian cookery class with Awa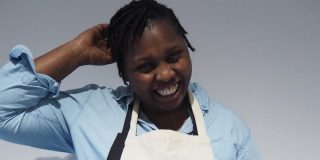 When
Jul 9, 2019 - Jul 9, 2019
Where
Migration Museum at The Workshop,
26 Lambeth High Street,
London, SE1 7AG
Summary
Learn to make traditional Gambian dishes bursting with flavour, then sit down and enjoy what you've made as you share a social dinner with the group .
Lots of fun, and the perfect way to learn a new cuisine!
Message from Awa:
"My name is Awa. I'm from Gambia. My journey with food started with my mum who taught me everything she knows about a food. It is a big tradition in my culture to follow our family legacy. We start cooking when we are very young. Our dishes are very flavoured and tasty. For example Benecin and Chicken Yassa. We have a lot of fish and seafood dishes. When I am cooking I feel very happy."
The class will take place within our Room to Breathe exhibition and attendees will also have the chance to look around the exhibition.
Tickets cost £35 (plus Eventbrite booking fee). This includes the cost of the cookery class, dinner and an optional guided tour of our current exhibitions. Click here to book via Eventbrite.
We regret that the venue for this event is not fully accessible – it is located on the first floor with no step-free access.
About Migrateful
Migrateful is a cookery and language initiative where asylum seekers, refugees and migrants struggling to access employment in the UK due to legal and linguistic barriers, teach their traditional cuisines to the public. Visit migrateful.org to find out more.
What to expect
During a Migrateful cookery class, you will work within your group to prepare dishes to be served family-style. Some dishes are prepared by the chef and demonstrated to you while some dishes will have you preparing it from beginning to end, while learning our chef's authentic techniques from their home country. Our classes appeal to those interested in learning international recipes, practising a different language and in meeting new people for a cultural exchange in an intimate setting, as well as to those wishing to support migrants and refugees struggling to rebuild their lives.