Event listing
Migrants at the Centre: Looking beyond Marginalisation and Exclusion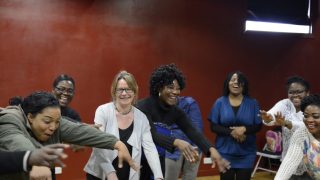 When
Jul 19, 2017 - Jul 19, 2017
Where
Migration Museum at The Workshop,
26 Lambeth High Street,
London, SE1 7AG
Summary
The Open University presents:
Migrants at the Centre – Looking beyond Marginalisation and Exclusion
Migrants and refugees are often represented as if they are situated at the margins of society, as individuals failing to integrate with 'central' society. In this public talk, academics and third sector representatives come together to problematise this 'migrant as outsider' discourse.
Each of the short talks will draw on research and practice to, firstly, highlight migrants' rich and multiple forms of participation in society and institutions, then interrogate the structural exclusionary obstacles that migrants face, and finally, share methods by which their/our agency and contributions can be made visible and recognised.
This is the third in a series of three public talks organised by The Open University looking at the question of how we think about migration. The series brings together academics and practitioners to engage with how the arts, politics and law represents the experiences of refugees and migrants.
Speakers:
Sara de Jong, The Open University
Umut Erel, The Open University
Almas Farsi, Asylum Welcome
Other talks in this series:
Observing Displacement: Interrogating the Role of Art in the Politics of Displacement
21 June, 6pm–8pm at Migration Museum at The Workshop
Statelessness as Displacement in Situ
12 July, 6pm–8pm at Migration Museum at The Workshop