Event listing
Lewisham, Greenwich and Deptford Walking Tour – London Festival of Architecture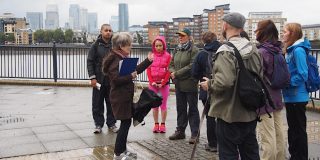 When
Jun 10, 2023 - Jun 10, 2023
Where
Goldmiths, University of London,
Richard Hoggart Building, Goldsmiths, University of London, Lewisham Way,
London, SE14 6NW
Summary
Saturday 10 June 2023
Starting point: Goldsmiths, University of London (Richard Hoggart Building)
10am–1pm
£14 – book via Eventbrite
The Migration Museum is proud to be situated within the heart of Lewisham – one of London's most vibrant and culturally diverse boroughs and, alongside its neighbour Greenwich, an area steeped in migration stories.
This walking tour not only features rich contemporary stories of migration, but also uncovers the histories of global imperialist conquests, the legacies of colonialism, and the migrants that have shaped (and continue to shape) the architecture of this ever-changing part of south-east London.
From the area's naval past to the anti-racist movements that continue to live on in the present day, this tour will take you on a journey through time.
Book your ticket here (opens in Eventbrite)
This walking tour is part of the London Festival of Architecture.
About the London Festival of Architecture
The London Festival of Architecture is a month-long celebration of architecture and city-making taking place across London, run by the New London Architecture (NLA) and named by London Mayor Sadiq Khan as one of his design advocate organisations.