Event listing
Holocaust Memorial Day 2023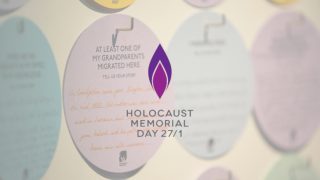 When
Jan 27, 2023 - Jan 29, 2023
Where
Migration Museum,
Migration Museum, Lewisham Shopping Centre,
London,
London SE13 7HB
Summary
Friday 27 January–Sunday 29 January 2023
Free – no booking
Holocaust Memorial Day is the international day to remember the six million Jews murdered during the Holocaust, alongside the millions of other people killed under Nazi persecution of other groups and during more recent genocides in Cambodia, Rwanda, Bosnia and Darfur. This year's theme is: Ordinary People.
For Holocaust Memorial Day on Friday 27 January and over the weekend, we will be displaying personal migration stories shared with us by visitors with a connection to the Holocaust, Nazi persecution and more recent genocides, in line with this year's theme. We will also be signposting relevant stories from our Taking Care of Business exhibition, as well as  books and products in our Migrant Makers Market about and made by people with a connection to this history.
On Sunday 29 January, Amanda will be leading a special Stories in Focus mini-tour highlighting the story of Marks & Spencer, her family's connection to founder Michael Marks' story – and the resonance of Holocaust Memorial Day to Jewish communities in the UK and beyond.
In the meantime, here are some related digital and educational resources to explore:
Watch: Lily Ebert tells the incredible story of her small gold pendant, a photograph of which featured in our 100 Images of Migration exhibition
Education resource: Kindertransport Lesson Plan (Primary)
Education resource: Kindertransport Lesson Plan (Secondary)