Event listing
Hand-Embroidered Floral Brooch Workshop with Zeynep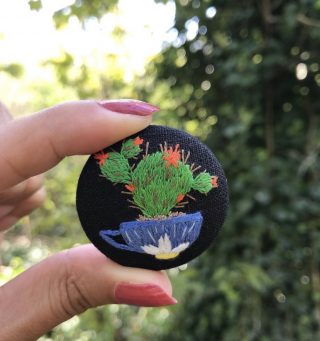 When
Sep 17, 2022 - Sep 17, 2022
Where
Migration Museum,
Migration Museum, Lewisham Shopping Centre,
London, SE13 7HB
Summary
Saturday 17 September 2022
1pm–4pm (drop-in)
Free – no booking
Embroidery has been an inspiring, expressive art form for thousands of years. Once considered an old-fashioned pastime, embroidery is now an extremely popular craft – and it's not hard to see why. Not only is it relaxing, fun and suitable for all ages, it's also really easy to start. 
Zeynep Yildirim, a contemporary embroiderer, uses nature as the inspiration for a lot of her work. 
Join Zeynep, create your own brooch and leave with the skills you can use to decorate your clothes, household objects, tote bags and more.
This free, drop-in embroidery workshop is open to all abilities and will give you basic stitch techniques whilst showing you the intricate work Zeynep has created and that can be achieved with this embroidery technique. 
About Zeynep Yildirim
I began creating hand embroidery as a hobby in 2020 during the first UK lockdown, for relaxation. And then my hobby gradually turned into a passion. I love the adventure of finding new patterns, the  colours of the gathering of threads just before beginning stitching and the texture of a finished work. 
I've always been into making things by hand and thoroughly enjoyed cross-stitching when I was a child. I used to consider embroidery an incredibly complicated handcraft, because the finished pieces looked so detailed and intricate. But when I started doing embroidery, I realised that it's actually not hard and just takes practice. Embroidery is extremely satisfying – and learning basic stitches you can really see such beautiful results. 
Embroidery allows me to be creative, to slow down and focus on something for myself. İt is also an excellent tool for mindfulness. Now I love sharing my passion and skill with people, wanting to learn more.
And it turns out I'm not alone in enjoying this artform, so am back for my second workshop with the Migration Museum.