Event listing
Flying-carpet weaving workshop with Shorsh Saleh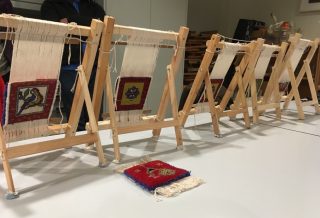 When
Apr 27, 2019 - Apr 27, 2019
Where
Migration Museum at The Workshop,
26 Lambeth High Street,
London, SE1 7AG
Summary
SECOND DATE ADDED DUE TO POPULAR DEMAND
Join our artist-in-residence Shorsh Saleh for a participatory flying-carpet weaving workshop in his studio in our Room to Breathe exhibition.
Participants are invited to design and weave miniature flying-carpets around the theme of travel and migration, using traditional water motifs. Participants will learn basic flat weaving techniques.
The cost of this all-day workshop is £20 per participant – this workshop is suitable for participants aged 12 and over.
The first workshop on Sunday 14 April is sold out and spaces for the second workshop on Saturday 27 April are limited, so please book early to avoid disappointment.
Click here to book via Eventbrite
About Shorsh Saleh
Shorsh Saleh is a Kurdish mixed-media artist, carpet designer and weaver. Having travelled to the UK as a refugee 17 years ago, Saleh deals with the subjects of migration, borders and identity through his work. Saleh includes the traditional techniques of miniature painting in a contemporary context, using handmade natural pigments, dyes and papers. Saleh is also an experienced Persian carpet maker and many of his works are inspired by the symbolic motifs used in traditional carpets, combined with contemporary imagery. His current series of works are based on the subject of migrant journeys by sea and the imaginary notion of flying carpets being used to cross borders.
Saleh studied MA Traditional Arts at The Prince's School of Traditional Arts in London, where he has been teaching carpet weaving since 2015. He has also been teaching at the Museum of Islamic Art in Doha since 2017. Saleh has exhibited both nationally and internationally. His works are held in the Royal Collection Trust, the British Museum, the Bagri Foundation and The Islamic Art Museum, Malaysia.
About Room to Breathe
Room to Breathe is an immersive exhibition at the Migration Museum inviting visitors to discover stories from generations of new arrivals to Britain. Journey through a series of rooms in which the struggles, joys, creativity and resilience of living in a new land are brought to life through audio, films, photographs and personal objects. The art studio within the exhibition will serve as a setting for a series of residencies by migrant artists. For more information, visit the Room to Breathe exhibition page.
About the art studio in Room to Breathe
The art studio inside our Room to Breathe exhibition is a space curated by visual artist and educator Dima Karout to explore the role of art and creativity in helping people settle into new lives in Britain, and to offer educational art experiences for visitors. Each month, the studio will host a different migrant artist to share their work and process.
View the full schedule of artists in residence and find out more about Room to Breathe