Event listing
Great Minds: Migration and Fashion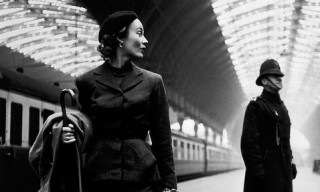 When
Dec 11, 2014 - Dec 11, 2014
Where
Iniva,
Rivington Place ,
London, EC2A 3BA
Summary
Great Minds: Migration and Fashion
Free admission⎪Advanced booking essential through Eventbrite
Iniva (Institute of International Visual Arts)⎪Thursday 11th December 2014⎪6.30-8.30pm
London's fashion industry and Londoners' styles have always been, and continue to be, shaped by migration.
Join us as we explore the importance of migration for two designers working in the global fashion capital of London.
Hazel Aggrey-Orleans and Awon Golding join Maggie Semple in conversation to discuss how their personal journeys, and life in London, have inspired and influenced their brands and collections.
---
Do you have a treasured fashion item with a migration story? 
Bring it along to our Fashion Stories corner during the reception, where illustrator Sofia Niazi and oral historian Heiba Lamara of OOMK zinewould love to meet you and capture your stories for the Migration Museum Project's online collection.
Your item could be anything from a great-grandparent's ring from across the globe, to a scarf you grew up with in the Scottish highlands – we are interested in all fashion stories of migration to, from and within the British isles.
---
---
Speakers
Hazel Aggrey-Orleans, Designer and Owner of the label Eki Orleans
Hazel Eki Aggrey-Orleans is the creative force behind the high-end London-based fashion-label Eki Orleans. Born in Germany, raised in Nigeria and educated in London, her design aesthetic has been strongly influenced by this diverse mix of cultures.
Showcased in London, Paris, Lagos, Johannesburg and Cannes, Eki Orleans designs have also been stocked in Selfridges and picked up by exclusive boutiques in Europe and in Nigeria.
Awon Golding, Milliner and Owner of Awon Golding Millinery
Awon Golding is a London-based milliner who has spent an eclectic youth in India, Hong Kong and England. She draws on her multicultural heritage to inspire dynamic headpieces which are handcrafted in her East London studio, incorporating traditional materials and modern techniques.
Awon Golding's SS14 collection is stocked at Liberty and she was selected by the British Fashion Council to showcase at Headonism at London Fashion Week 2014.
---
Chair
Maggie Semple OBE, Founder of Maggie Semple Limited
In October 2010 Maggie founded Maggie Semple Limited to coincide with the publication of her book 'Women, Fashion, Stories' and now uses the concept behind the book to host 'Semple Secrets', a series of conversations with inspirational women from a diverse range of fields.
Maggie has worked with many public and private sector organisations on leadership and organisational development, and has an established media profile. She currently serves on the Boards of the British Library, Brit School and Southbank Arts Centre.
---
Great Minds event series
This event is part of the Migration Museum Project's Great Minds event series in partnership with CARA. Through these events, we aim to highlight the value of migration into and out of the UK by putting a spotlight on great contributions from individuals in different fields whose work is in some way shaped by migration.
In partnership with

CARA, established in 1933, provides assistance to academics who have been, are, or are at risk of being, subject to discrimination, persecution, suffering or violence.

Find out more: www.cara1933.org