Event listing
Exhibition Launch: Germans in Britain at Queen Mary University London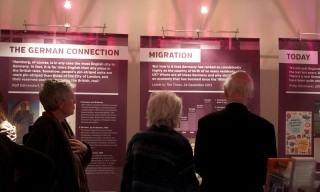 When
Jan 29, 2015 - Jan 29, 2015
Where
ArtsTwo Lecture Theatre, ArtsTwo Building,
Queen Mary University of London Mile End Campus,
London, E1 4NS
Summary
Nikolaus Pevsner, a 'Kunsthistoriker' in Britain
A lecture to launch the 'Germans in Britain' Exhibition│6.30pm, Thursday 29th January 2015
Book free tickets Eventbrite
Queen Mary University in partnership with the Migration Museum Project is delighted to invite you to the launch of the Germans in Britain exhibition. At 6:30pm, Emilie Oléron Evans will deliver a lecture entitled Nikolaus Pevsner, a 'Kunsthistoriker' in Britain. This will be followed by a reception to allow time to enjoy the exhibition itself.
For more information about the exhibition, please visit our Germans in Britain page.
---
About the lecture (ArtsTwo Lecture Theatre, 6:30pm)
The works of Nikolaus Pevsner (1902-1983), a British scholar of German origin, played a major part in the ascent of the history of art and architecture to the status of an academic discipline in Britain. Pevsner was a successful mediator between university and society, in his roles as editor, broadcaster and art critic. These activities were based on German cultural models and gradually transformed him, an interpreter of culture, into a national institution.
Speaker: Emilie Oléron Evans
Emilie Oléron Evans has recently completed a PhD on Nikolaus Pevsner, achieved jointly at Queen Mary University of London and at the Université Sorbonne Nouvelle Paris III.