Event listing
Family Fun Day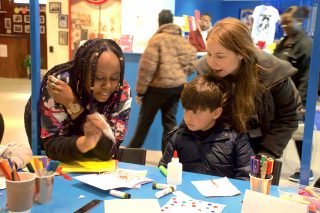 When
Aug 18, 2023 - Aug 18, 2023
Where
Migration Museum,
Migration Museum, Lewisham Shopping Centre,
London,
London SE13 7HB
Summary
Friday 18 August 2023
11am–3pm
Free – Donations welcomed
Join us during the summer holidays for a fun day of free activities suitable for the whole family.
Activities include:
'All Refugees Welcome' card-making workshop with Nadina Ali
Join graphic artist Nadina Ali for an 'All Refugees Welcome' card-making workshop where you will be making greeting cards to welcome refugees and migrants with open arms. You will be using text, drawing and collage to create colourful cards with uplifting and welcoming messages for local migrants and refugees. The workshop is open to all creative abilities and ages. Card templates and materials will be provided – just bring yourself and your ideas!
'Threads of Migration' textiles workshop with Cindy Lilen
Textile artist and designer Cindy Lilen leads a workshop exploring migration through textile techniques. Learn embroidery techniques and stitches that symbolise different aspects of migration, such as maps, routes, borders, and cultural symbols. Use small crafts weaving techniques to represent the interconnectedness of diverse cultures, emphasising the richness brought by migrants to new communities. Share your own migration stories or those of your ancestors through your textile creations.
No booking – drop by anytime to join in the fun.