Event listing
Colonials in the Metropole: Migrant Bloomsbury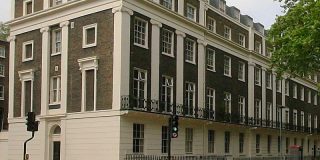 When
Apr 12, 2018 - Apr 12, 2018
Where
Outside Euston Square station,
NW1 2BF
Summary
Thursday 12 April 2018 | 6.30pm–8.30pm
Assembly point: Outside Euston Square station
Free (advance booking essential)
The third in a series of new guided walks led by literary historian Dr Nadia Valman of Queen Mary University of London, exploring London through the eyes of migrant writers from the mid-nineteenth century to the 1960s.
In the 1920s and 30s Bloomsbury was London's most diverse neighbourhood, populated by writers and intellectuals from all over the world. Some came to put down roots; others felt permanently unrooted; some produced acute observations of a modern commercial city; and for others London appeared dreamlike and unreal.
This walk brings together some unexpected perspectives on Bloomsbury from the work of émigré writers from British colonies – C.L.R. James from Trinidad, Mulk Raj Anand from India, Christina Stead from Australia and Jean Rhys from Dominica – as well as from beyond the British Empire (for example, Lao She from China).
This is a free walk, but advance registration is essential as places are limited.
Other walks in this series:
Rediscovering Rosemary Lane: Irish Migrants in Victorian London (Saturday 17 March, 2.30pm)
Fragments of Jewish Whitechapel (Sunday 25 March, 2.30pm)
Left Luggage: Reading Sam Selvon in Waterloo Station (Sunday 22 April, 2.30pm)