Event listing
Arrival – Author Nataliya Deleva in conversation with Susie Nicklin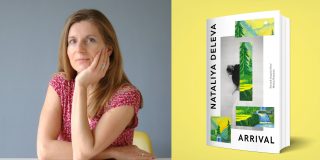 When
Apr 29, 2023 - Apr 29, 2023
Where
Migration Museum,
Migration Museum, Lewisham Shopping Centre,
London,
London SE13 7HB
Summary
Saturday 29 April 2023
2pm–3.30pm
Free – book via Eventbrite

Join award-winning author Nataliya Deleva as she reads from and discusses her new novel Arrival with Susie Nicklin, founder and commissioning editor of Indigo Press.
Arrival follows a young woman fleeing her home country and trying to rebuild her life, after she has suffered violence at the hands of an alcoholic father. Infused with love and determination and interwoven with folk tales and rituals, Arrival depicts the ways in which we are resilient, capable of carving our own paths and reimagining our lives.
Nataliya will read an extract from Arrival, followed by a conversation with Susie about some of the themes the novel explores: dual identity, our fragmented memories and the impacts of trauma. This will be followed by an audience Q&A session and book signing.
Click here to book your free ticket for this event (via Eventbrite)
About Nataliya Deleva
Nataliya Deleva was born in Bulgaria and now lives in London. Her debut novel, Four Minutes, was originally published in Bulgaria (Janet 45, 2017), where the book was awarded Best Debut Novel and was shortlisted for Novel of the Year (2018). It has since been translated into German (eta Verlag, 2018), English (Open Letter Books, 2021) and Polish (Wydawnictwo EZOP, 2021).
Nataliya's short fiction, reviews and essays have appeared in Words Without Borders, Fence, Asymptote, Empty Mirror, Granta Bulgaria, and the anthology Stories from the 90s (ICU Publishing, 2019) among others.
About Susie Nicklin
Susie Nicklin began her career at The Bodley Head publishers and co-founded foreign rights specialist The Marsh Agency in 1993. She was Director of English PEN from 2002 – 2005, and inaugurated its translation programme (now PEN Translates). She was Director of Literature at the British Council from 2005 – 2013, creating international literary partnerships and events.
From 2015 – 2019 she was the owner of award-winning independent bookshop Dulwich Books, and she produced and directed ten literary festivals in that time. She founded The Indigo Press in 2018.
About the Indigo Press
The Indigo Press is an independent publisher of contemporary fiction and non-fiction, based in London. Guided by a spirit of internationalism, feminism and social justice, they publish books to make readers see the world afresh, question their behaviour and beliefs, and imagine a better future.
Image: Nataliya Deleva/The Indigo Press