Event listing
100 Images of Migration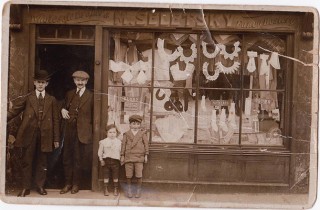 When
Apr 26, 2017 - Apr 29, 2018
Where
Migration Museum at The Workshop,
26 Lambeth High Street,
London, SE1 7AG
Summary
26 April 2017 – 29 April 2018 | 11am– 5pm (Wed-Sun plus bank holidays, late opening last Thurs of each month) | Free admission
Migration Museum at The Workshop
26 Lambeth High Street, London, SE1 7AG

Please note that the museum will be closed all day on Easter Sunday (1 April) and Easter Monday (2 April).
We are displaying a selection of some of the most popular images from our 100 Images of Migration exhibition on the staircase and balcony leading to the entrance to our gallery space at the Migration Museum at The Workshop.
100 Images of Migration is the exhibition with which we launched the Migration Museum Project in 2013. The product of a competition run with the Guardian newspaper – people were asked to submit images that were, for them, resonant of migration – it collected images provided by professional and amateur photographers alike, each of which provides a snapshot on the lived experience of migration. Every photo is accompanied by an explanatory text, some starkly short, some a more elaborate account of the significance of the image to the photographer. Together, they project a powerful image of migration in Britain today – sometimes inspiring, sometimes unsettling, at times dramatically mundane, always arresting.
The Migration Museum at the Workshop is showcasing a selection of some of the most enduringly popular images from this exhibition that is so close to the heart of what the Migration Museum Project is about: reflecting the full range of the experience of migration, from professionals, amateurs and visitors; challenging us all to review our understanding of, and attitude to, migration; identifying the human stories that lie behind the often clichéd treatment of the subject in our mainstream media.
Click here to view the complete gallery of 100 Images of Migration