6 February, 2014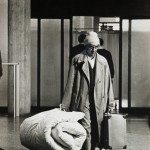 Our exhibition, 100 Images of Migration, is on tour. After being hosted at Hackney Museum, Senate House (the University of London), the offices of Freedom From Torture, the School of Museum Studies at the University of Leicester and the Heritage Gallery in the Old Royal Naval College, Greenwich, it is currently on display in the Wardown Park Museum in Luton. We are delighted to be working with the team there to further develop the exhibition. Watch this space for more information!
We continue to offer the images from the exhibition to interested venues. Our aim is for it to migrate. Each venue selects the images that are most resonant for it and supplements them if it chooses, to give the exhibition a local flavour and local stories.
If you are interested in putting on this exhibition, please contact the project director, Sophie Henderson, or the project manager, Andrew Steeds.