2 June, 2016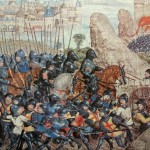 As a way of setting the scene to our newest exhibition, Call Me By My Name: Stories from Calais and Beyond, Professor Robert Tombs has written this historical account of the city and its enduring importance on both sides of the Channel. 
---
Burghers and roast beef
The bit of the continent closest to England has always been hugely important to us islanders – so much so that, for more than 200 years, it was actually part of England.
During the long medieval wars between France and England, it was besieged and captured by Edward III in 1347. When the town surrendered, 12 burghers were threatened with hanging by Edward, but spared by his Queen Philippa – a drama immortalised by the sculptor Auguste Rodin in a sculpture now displayed next to the Palace of Westminster.
Edward expelled its native population, and made Calais into an English trading post and military and naval base, with thousands of merchants handling England's greatest export to the Continent – wool. Dick Whittington was its mayor in 1407. It was represented in parliament, and its profits provided up to a third of England's tax revenue. Its sizeable hinterland included Sangatte, and it was strongly fortified and defended by a large professional garrison.
In the 1450s, it was commanded by the Earl of Warwick, 'the Kingmaker', and this enabled him to play a crucial role in the Wars of the Roses. However, Calais' trade declined, its defences crumbled, and when it was captured by surprise by the French in 1558, it was important only as a blow to the prestige and popularity of the Queen, Mary Tudor, who famously said that 'Calais' was written on her heart.
In later centuries, the story was rather one of tourism. Calais was where the English had their first taste of the Continent. William Hogarth's satirical 1748 painting, O the Roast Beef of Old England ('The Gate of Calais'), now on display at Tate Britain, showed the contrast as patriotic Brits like himself saw it: between free and prosperous Britain and poor and down-trodden France.
In the 18th century, Calais' famous Hôtel de l'Angleterre – with its own theatre and carriage hire – was said to be the finest in Europe. Calais was also a place of refuge for those islanders who had blotted their copy book at home. There were so many British residents in the 19th century that it had its own English-language newspaper.
As early as 1802, a plan had been put forward to build a Channel tunnel, and in the early 1880s work actually began at both Sangatte and Dover, and pushed a couple of miles under the sea. But the War Office feared it might be used to launch a surprise invasion, and put a stop to it. After the First World War, the prime minister, David Lloyd George, told the French that he would build a tunnel so that Britain could send aid to the French if they were again attacked, but once more the War Office vetoed it. In 1940, a British garrison defended Calais bravely until overwhelmed by the invading Germans.
Always one of the main gateways from England to the Continent, its role as a seaport was of course transformed by the building of the Channel Tunnel, which opened in 1994 after more than a century of false starts.
Calais today has become notorious for another reason: for centuries the route by which the British came to Europe, it has now become a symbol of the desperate efforts of refugees and migrants to leave Europe in the hope of economic opportunity in Britain.
But this is not the first time that Calais has been an escape route. Many French Protestant Huguenots passed through it in the 1680s, and then a century later came thousands of refugees from the French revolutionary Reign of Terror. Successive waves of asylum seekers, including kings and prime ministers, took the same route. In 1848, British workers attacked by xenophobic revolutionary mobs had to take refuge on Channel ferries.
As long as there are people who, for whatever reason, seek shelter in Britain, Calais will be the primary port of call.
---
Professor Robert Tombs, lecturer in modern European history at St John's College, Cambridge, and author of The English and their History, will be appearing in our panel discussion on 'What is Britishness?' at our Call Me By My Name exhibition (Londonewcastle Project Space, 28 Redchurch Street, Shoreditch, London E2 7DP) on Tuesday 14 June, 7–9pm.