Event listing
We Are Movers: We Are Towers of Strength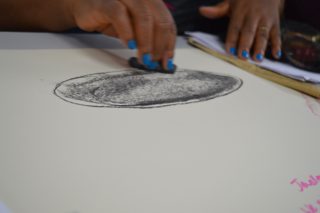 When
Feb 7, 2019 - Mar 3, 2019
Where
Migration Museum at The Workshop,
26 Lambeth High Street,
London, SE1 7AG
Summary
Dates: Thursday 7 February–Sunday 3 March 2019
Opening hours: Thursday 12pm–8pm, Friday–Sunday 12pm–6pm
Venue: Migration Museum at The Workshop, 26 Lambeth High Street, London SE1 7AG (Nearest tubes Vauxhall, Lambeth North and Westminster)
Admission: Free
We Are Movers challenges hostility and discrimination against migrants by offering new ways to see, feel, and understand conditions of mobility and settlement.
The exhibit was developed through a series of arts-based conversations intended to bridge academic research and lived experiences of migration. We considered: What does it mean to belong? How can we challenge negative images of migrants?  How do experiences of poverty, hostility and coercion affect the possibility of "integration"? How can our answers inform responses to displacement in universities and beyond?
We are Movers is the result of these discussions and creative productions. Photographs, drawings, and text from the sessions were developed into a series of three abstracted images: Questioning "Integration"; Categories, Stereotypes & Misrepresentations; and Belonging. These create space for imagination and difference while wall texts explain key ideas developed during the collective process of production.
We Are Movers prompts viewers to question reductive stereotypes of 'the migrant'. Whether people are labelled 'immigrant', 'migrant', 'citizen' or 'mover', there is always far more to each person than we can possibly know. The project highlights the importance of solidarity and collective strength in a hostile environment.
Project participants include staff and students from University College London (UCL) and women and children from Helen Bamber Foundation and Lewisham Refugee and Migrant Network.
Acknowledgements
Project participants
Amalia Pascal, Aminat, Amy North, Ann Oladimeji, Bahati Dan, Becky Ayeni, Claudia Lapping, Debby Kareem, Drucilla Namirembe, Esther O Odere, Hanna Retallack, Harriet Ibeneme, Ijeoma, Iman Azzi, Neelam, Nneka, Omoh Juliet, Olushola Owolabi, Promise Enabosi, Patricia Akpapuna, Rachel Benchekroun, Rachel Rosen, Raphaela Armbruster, Sara Joiko Mujica, Tabitha Millet, Theresa Ajagu, Zoline Makosso.
Children's programme volunteers
Rachel Silander with Hannah Rivera, Julie Compton, Lu Yihan, Miao Xinyue, Ruocheng Jiao, Safia Abdi, Sun Lingxuan, and Yuxin Chen.
With thanks to
Helen Bamber Foundation, Lewisham Refugee and Migrant Network, and Britt Permien Design.
Funders
UCL Culture and the Department of Social Science at UCL Institute of Education.
Contact us at: wearemovers2019@gmail.com