Event listing
Queers & Allies presents: Queer Migration Stories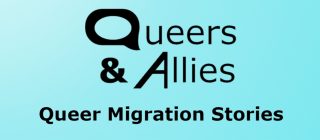 When
Jul 14, 2019 - Jul 14, 2019
Where
Migration Museum at The Workshop,
26 Lambeth High Street,
London, SE1 7AG
Summary
Sunday 14 July 2019 | 3pm–5pm
Migration Museum at the Workshop
26 Lambeth High Street, London, SE1 7AG
£5 – advance booking required
Join Queers & Allies for an informal discussion event on queer migration stories.
Come and hear from speakers with queer migration stories including Mazharul Islam, an LGBT activist from Bangladesh; PJ Samuels, a poet, educator and LGBTI human rights activist; and Moud Goba, a Zimbabwean lesbian and refugee residing in the UK. Come with questions for our speakers and your own stories and reflections. This is a safe, interactive and inclusive space where input is welcomed.
Please book in advance – click here to book.
About the speakers:
Mazharul Islam is an LGBT activist from Bangladesh who left his country in 2016 after the murder of two LGBT activists by Islamic extremists in Dhaka. He was one of the pioneer management board members of Bangladeshi's first online LGBT group, Boys of Bangladesh, which is considered the first LGBT online platform for Bangladeshi LGBT people. Maz is also an artist and he had group exhibition of his paintings in Bangladesh, Nepal and Japan. He moved to London on 13 November 2016 with the support of his present employer. Maz is one of the winners of Attitude Pride Award 2018 and he has been nominated for this award for making a protest here in London in front of Bangladesh High Commissioner.
PJ Samuels is a poet, educator, and LGBTI human rights activist. She is a Christian and the facilitator of 'Weather the Storm', an LGBTI refugee peer support group she started 2015. Originally from Jamaica, she is passionately vocal about human rights, mental wellness, stigmatisation and inequalities. She is included in the 2017 'I am a Refugee' campaign which celebrates refugees and their contributions to the UK. She is contributor to the Anthology 'Black and Gay in the UK', 'Sista!: An anthology of writings by Same Gender Loving Women of African/Caribbean Descent, Spoken Word London Anti-Hate Anthology. She continues to write poetry that interrogates challenging issues of race, gender, patriarchy and identity and explores facets of belonging.
Moud Goba, is a Zimbabwean lesbian and refugee residing in the UK. She is an LGBTI and human rights activist with more than 15 years' experience in working with BME LGBTI grassroots community groups. She was one of the founding members of UK Black Pride and is currently their Director of Community Engagement. Ms Goba passionately supports LGBTI asylum seekers and refugees, especially women in immigration detention centres. She has previously worked for UK Lesbian and Gay Immigration Group. She currently works as a Project Manager for Micro Rainbow International, an organisation that addresses LGBTI poverty worldwide. At MRI, she focuses on the organisation's safe housing project, providing accommodation to homeless LGBTI asylum seekers in the UK. In South Africa, Ms Goba supports The Fruit Basket, an organisation working with trans migrants and refugees. In 2015, Ms Goba was named one of the top 100 most influential LGBTI people in the UK by the Independent and was the recipient of the Attitude Pride Award.
Bojana Asanovic is the chairperson for UK Lesbian and Gay Immigration Group, which provides vitally needed legal support and advocacy for LGBTQ+ asylum seekers, as well as being involved in research, policy and training in this area. Bojana is a barrister and has a wide-ranging practice in immigration and asylum matters. Her specialist interests include sexual orientation and gender identity and trafficking.
Find out more about Queers & Allies
We regret that there is no step-free access to the venue for this event – it is being held in our Breathing Space Café, which is up two flights of stairs. If you have mobility difficulties and would like to attend the event please do make contact and we will see if there are ways to facilitate this.