Event listing
No Direction Home – stand-up comedy for Refugee Week 2019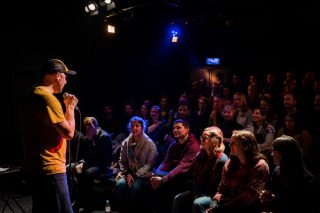 When
Jun 18, 2019 - Jun 18, 2019
Where
Migration Museum at The Workshop,
26 Lambeth High Street,
London, SE1 7AG
Summary
Tuesday 18 June 2019 | 7pm–9.30pm
Migration Museum at The Workshop
£5– book via Eventbrite 
Laughter unites us: an evening of five stand-up by comics from refugee and migrant backgrounds, hosted by Nour-Ani Sisserian and featuring a headline performance by Stefano Paolini.
No Direction Home is a course for stand-up comics from refugee and migrant backgrounds. See the unexpected, insightful and downright funny results of the course at this performance.
Come and celebrate Refugee Week 2019 with us!
Click here to book £5 tickets via Eventbrite.
We regret that the venue for this event is not fully accessible – it is located on the first floor with no step-free access.
About Stefano Paolini
Stefano Paolini is a stand up comedian who performs impressions, characters and beatboxing to create highly entertaining routines. He is a popular face on the comedy circuit, as well as on radio, television and online. Appearances include: Dead Ringers and Loose Ends (BBC Radio 4), The Dreem Teem and the Jo Whiley Show (BBC Radio 1), Double Take and Bromwell High (Channel 4) and Headcases (ITV). Stefano is also an author and published his debut book in 2015 called, Missing Presumed Drowned: A true story of the internment of Italians resident in Britain during the Second World War.
**** THREE WEEKS, ONE4REVIEW.COM
"The best voice- merchant on the live circuit" EVENING STANDARD
"A remarkable repertoire of voices and sounds" THE STAGE
"ACE…….an obvious star" THE SCOTSMAN
Presented by Counterpoints Arts. Part of Refugee Week 2019.
No Direction Home is a project produced by Counterpoints Arts in partnership with Camden People's Theatre.