Event listing
Practices of Place-Making: Memory, Migration and the Global City (Part 1)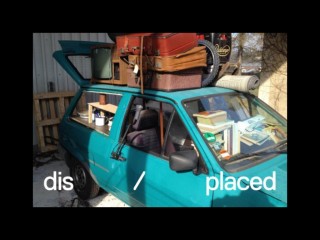 When
Jun 16, 2015 - Jun 16, 2015
Where
Shoreditch Town Hall,
380 Old Street,
London, EC1V 9LT
Summary
A Counterpoints Arts Learning Lab in association with the Migration Museum Project, part of Counterpoints Arts' dis/placed programme.
16 June 2015⎪3:30 – 6 pm⎪Free admission, book on Eventbrite
The Ditch, Shoreditch Town Hall, 380 Old Street, London EC1V 9LT
Artists are often astute observers of the intricate – idiosyncratic – processes of place-making. They are able to document the everyday minutiae shaping the cultural diversity of local places. Yet artistic practices of place-making demand deep collaboration, encouraging (interdisciplinary) methodologies of trust, participation, and democratic/experimental modes of representing 'voice' and collective agency for communities of place.
This Lab focuses on the work of artists who are engaging in place-making practices through the prism of migration, memory and the lived realities of the global city.
Using video, still photographs, maps, sound and text, Haim Bresheeth and Reza Tavakol's installation 'Convivencia' (co-existence) explores the mixed cultural heritage and everyday life on Turnpike Lane, North East London, where more than 100 languages are spoken and people from all parts of the world live in close proximity.
James Russell Cant's collaborative photographic portraiture series, 'Home Cooking', uses food as an anchor for refugee memories and place-making – wherein shared recipes, cooking and eating enact a rich performative site for cross-cultural exchange and engagement.
Visit Learning Lab editions for further details⎪Book your ticket at Eventbrite
Full details of Counterpoints Arts' dis/placed programme
---
Learning Labs form part of the Out of Place Action-Research Platform (a project led by Counterpoints Arts' Learning Lab, in partnership with Royal Holloway, University of London and FilmAid).
The Learning Lab threads its way through Counterpoints Arts' dis/placed exhibition opening multiple spaces for interdisciplinary reflection, creative exchange, cross-sector learning and collaboration.
Speakers
Respondents:
Bobby Lloyd, 'The Drawing Shed'
Marcia Chandra, 'Everyday on Canalside'
Reem Charik, Febrik
Alice Sachrajda, The Young Foundation
Professor Phil Marfleet, University of East London
In partnership with
This Learning Lab event is organised by Counterpoints Arts in association with the Migration Museum Project.