Event listing
Imprints 2017: Migration Museum Project Fundraising Walk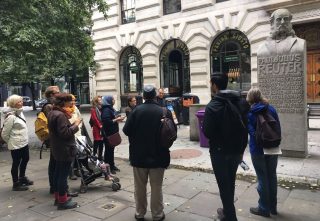 When
Oct 14, 2017 - Oct 14, 2017
Where
Meet outside Museum of London Docklands,
West India Quay,
London, E14 4AF
Summary
Saturday 14 October 2017 | 9.30am–5pm
Entrance fee: £15 (adults)/£12.50 (concessions) – purchase tickets via Eventbrite
Start point: West India Quay (outside the Museum of London Docklands), London E14 4AF
Join the Migration Museum Project on Saturday 14 October for our second annual fundraising walk across London.
Find out all about London's rich migration history, while helping us raise funds towards our goal of creating a permanent Migration Museum for Britain.
Walk with us on a new 10-mile route across London, from the Docklands to Lambeth, following in the footsteps of migrants who have shaped our city, culture and identity across the ages. The walk will finish with a celebration at our Migration Museum at The Workshop, where walkers will also have the chance to view our new exhibition, No Turning Back: Seven Migration Moments that Changed Britain.
The entrance fee for the walk is £15 (£12.50 for concessions) – please purchase via Eventbrite.
In addition to the entrance fee, which will help us to cover the cost of the walk, we hope that all walkers will raise funds from family, friends, colleagues and neighbours to support our future activities.
To assist your fundraising efforts, we've set up a fundraising page on MyDonate. Once you register, you will receive a fundraising pack via email, which will contain everything you need to get your fundraising efforts started.