Event listing
Am I My Brother's Keeper?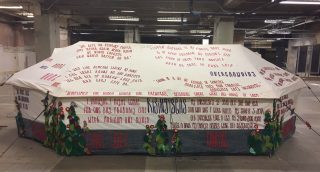 When
Jun 22, 2017 - Jun 25, 2017
Where
Migration Museum at The Workshop,
26 Lambeth High Street,
London, SE1 7AG
Summary
Am I My Brother's Keeper?
22 June – 25 June | 11am–5pm (Late opening until 9pm on Thursday 22 June) | Free admission
Migration Museum at the Workshop
26 Lambeth High Street, London, SE1 7AG
UNHCR presents Am I My Brother's Keeper?, an installation by London-based artist Kate Daudy.
Her work, which is based on an ancient Chinese literary practice of writing on objects, is concerned with questions of home, identity and memory.
In early 2016, thanks to the Spanish arts organisation ONUART, Daudy was given a used tent from Zaatari Refugee camp in Jordan, with which to create an artwork.
UNHCR organised for Daudy to visit several camps on different occasions, and she also met with activists, war-wounded, volunteers, doctors, diplomats and other aid organisations, from nearly 60 nations, asking them about their experience of the refugee crisis, and their observations about home and identity rising from it. She also asked them what lessons could be learned from their trauma and loss, that might be usefully shared through the medium of the tent.
The courage, perseverance and dignity of the people she met struck Daudy deeply, and these positive core human qualities along with the terrible collateral results of war, climate change, hatred and violence, which the refugees have gone through have become the overriding message of the tent. We can all help one another. We are all connected. Our life is what our thoughts make it.
The crochet elements of the tent are made by women in Syria and transported to London in often circuitous circumstances. Daudy commissioned the circles to compose the enormous tree of hope, as well as the crochet which compose the bushes of hollyhocks, so that the tent is inscribed with work and words literally of the refugees themselves.
Am I My Brother's Keeper? is on display at Migration Museum at The Workshop as part of Refugee Week.
There will be a launch event on Thursday 22 June, from 6.30pm–8.00pm, featuring live music from the London Syrian Ensemble and a light buffet of Sri Lankan food provided by refugee and migrant women.