Event listing
100 Images of Migration in Luton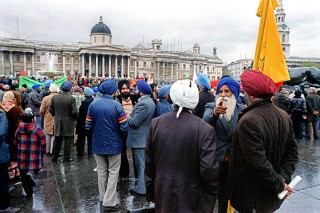 When
Jun 6, 2015 - Jul 19, 2015
Where
Wardown Park Museum,
Old Bedford Road,
Luton,
Luton LU2 7HA
Contact
Telephone 01582 546 722
Summary
Sat 6 June – Sun 19 July 2015⎪10am–5pm Tues–Sat; 1pm–5pm Sun; Closed Mondays.
Wardown Park Museum⎪Free admission (Wardown Park Museum welcomes donations)
Our 100 Images of Migration touring exhibition started life as a competition that the Migration Museum Project ran in partnership with the Guardian newspaper. Asked to send in images that said something about migration, photographers – professional and non-professional – sent in hundreds of photos, each with a short text explaining the image's significance to the photographer.
The photographs and their stories range from the immensely moving to the everyday, shedding light on different people's experiences and the connections we have across all cultures.
Find out more
Visit our 100 Images of Migration online gallery
Contribute your images of migration to our Flickr site
Make the most of your visit
While you are at Wardown Park Museum, you may also like to check out the British Museum's Sikh Fortress Turban spotlight loan, which is on display until 6 September.