Event listing
The New Londoners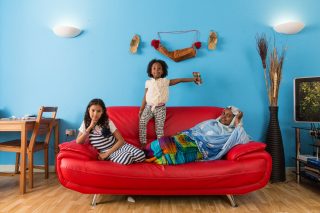 When
Apr 5, 2019 - May 27, 2019
Where
Migration Museum at The Workshop,
26 Lambeth High Street,
London, SE1 7AG
Summary
Dates: Friday 5 April–Sunday 26 May 
Venue: Migration Museum at The Workshop, 26 Lambeth High Street, London SE1 7AG (Nearest tubes Vauxhall, Lambeth North and Westminster)
Opening hours: Thursday 12pm–8pm, Friday–Sunday 12pm–6pm
Admission: Free
We are exhibiting a selection of images from photographer Chris Steele-Perkins' The New Londoners project, a series documenting and celebrating London's unique cultural richness.
Chris started the project four years ago, with the aim of thinking about a different way to photograph migration. He wanted to explore the seismic shift in what it means to be British, which for so long has meant white British.
To do this, he photographed and interviewed 164 families (with their myriad meanings of family) from 187 countries that are now living in London. This series of photographs was taken in people's homes to give consistency and a greater degree of intimacy, and is about families rather than individuals to give a greater sense of rootedness in London, which is not only his home, but also the most ethnically diverse city in the world.
The exhibition coincides with the launch of a new photobook of the series, which will be available to buy in our museum shop or online. We will be hosting the launch party for the book and a private view of the exhibition on Thursday 4 April.
To find out more, visit The New Londoners website.
A message from Chris Steele-Perkins:
My name is Chris Steele-Perkins. I am a British photographer and member of Magnum Photos (1979), best known for my depictions of Africa, Afghanistan, England, and Japan. I was born in Rangoon, Burma in 1947 to a British father and a Burmese mother. I grew up and was educated in England. My wife is Japanese and I am proud to say that I am one of the New Londoners!