Event listing
Migration Museum Book Club – Forced Migration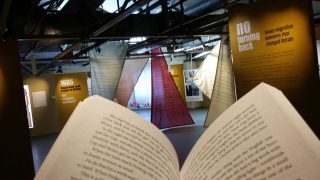 When
Jul 9, 2018 - Jul 9, 2018
Where
Migration Museum at The Workshop,
26 Lambeth High Street,
London, SE1 7AG
Summary
Monday 9 July 2018 | 6.45pm–8.00pm
Migration Museum at the Workshop
26 Lambeth High Street, London, SE1 7AG
Free – no need to register in advance, just join us on the day
Do you have a story to tell?
Have you read something interesting about migration that you would like to share?
Come and join our volunteer-led discussion at the Migration Museum's monthly book club.
Bring a book, poem, article or piece of your own writing to share with the group.
This month's theme: Forced Migration.
For more information and a list of other Book Club dates, check out our Migration Museum Book Club page.