Event listing
Ugandan Asians – A Living History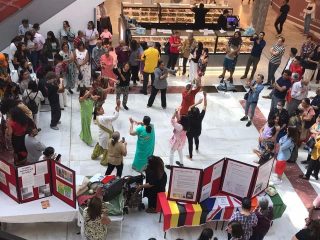 When
Oct 23, 2022 - Oct 23, 2022
Where
Migration Museum,
Unit 11, Lewisham Shopping Centre,
London, SE13 7HB
Summary
Sunday 23 October 2022
11am–4pm
Free – book via Eventbrite
This year marks 50 years since Idi Amin ordered the expulsion of Asians from Uganda. Over 60,000 Ugandan Asians were forced to leave, and around 27,000 with British passports came to the UK.
Join us to commemorate the anniversary of the Ugandan Asian expulsion and and share your experiences at the Migration Museum.
Activities include author readings, dance performance by Sujata Banerjee, live storytelling about the impact of the expulsion on Ugandan Asian families living in Britain today, film screening, food and art activities for all ages. We will also have opportunities for visitors to share and record their own personal stories.
Click here to book your free ticket via Eventbrite now
This event has been programmed by Ugandan Asians – A Living History. Find out more on Facebook or Instagram.