Event listing
Fabric of Our Lives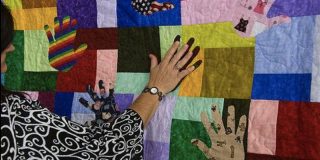 When
May 22, 2019 - May 22, 2019
Where
Migration Museum at The Workshop,
26 Lambeth High Street,
London, SE1 7AG
Summary
Wednesday 22 May 2019 | 10am–12pm
Migration Museum at The Workshop
Free – register via Eventbrite
Matilda Velevitch, director of the award-winning play Three Mothers, and Art Refuge UK, present Fabric of Our Lives, a particpatory workshop for women to share their stories of migration.
We invite women from all walks of life to share their migration stories in any form – these could be stories of emigration, immigration, personal to the individual, families or friends.
Each woman is invited to bring a piece of fabric that she feel connects to a story from "home". Home can be a place, a feeling, a meal, music, sounds, smells, or a person. With the help of our experienced facilitators, we will assist the participants in telling and describing this tale. With permission, the stories will be recorded, and photographer, Maria Sol Aizcorbe will create a visual documentary.
The pieces of fabric will be sewn together to make a patchwork of stories that will be displayed at the Migration Museum and made available online via partner websites and social media platforms.
This will be a two-hour, relaxed and convivial workshop environment, with refreshments served. Participation is free, but please register in advance so we know how many people are attending. Please note this is a women only event.
We regret that the venue for this event is not fully accessible – it is located on the first floor with no step-free access.
Click here to register (via Eventbrite)
The Fabric of Our Lives project is taking place across the country in Bolton, Wakefield, Bradford and London. To find out more contact Liberty@migrationmuseum.org.