A Polaroid for a Refugee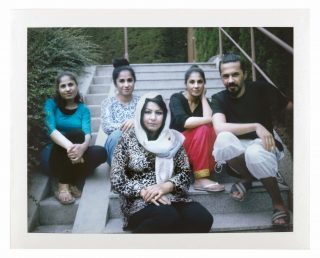 Back to gallery
A Polaroid for a Refugee
Vial Camp, Chios, Greece, May 2016.
Chios Island is one of the nearest Greek islands to the Turkish coast and as such a prime point of entrance to Europe.
There are two camps – Vial and Souda.
Last year, the entrance to the Vial camp was granted only to the NGO and Charities who were directly involved with the well-being of the refugees.
Due to the deal with EU and Turkey, most of the reception refugee camps became detention camps in which refugees were kept under the police supervision as Amnesty International reported after being granted access to Vial Camp in April 2016. "Security concerns linger following fierce clashes that broke out between different nationalities inside the camp overnight on 1 April, prompting more than 400 refugees and migrants to escape" according to Amnesty International.
Nowadays, the camps' conditions are very grim. Winterisation efforts fall short of what is truly required, according to Gabrielle Tan, founder of Action from Switzerland, a charity operating on the territory since last year. Refugees have said that the heaters provided are insufficient and that those who could afford it bought their own. Although there are many empty hotel rooms on the island in the low tourist season, some hotel owners are not willing to open up their premises to the refugees, according to Ms. Tan.
I asked the subjects to pose but I did not direct the scene. The subjects decided where and how to pose.
The original picture is a Polaroid Fujifilm FP-100C, which I re-photographed with Nikon 800 in my studio. Polaroid Camera: Polaroid 30 and Polaroid 103. The original picture can be provided upon request. Read more