Distinguished friends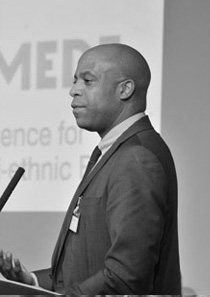 As Ben Okri wrote, 'Nations and peoples are largely stories they feed themselves.' If we fail to reflect our stories of migration as part of our national stories, we are at risk of forgetting our past and therefore destined to repeat our mistakes endlessly. A national Museum of Migration will be a crucial institution for learning and a sign of our collective commitment to understanding our nation's stories, in all their diversity.
Dr Rob Berkeley
Rob Berkeley has been director of the Runnymede Trust, the UK's leading race equality think-tank, since January 2009, having previously been the deputy director there between 2005 and 2009. His doctoral studies at the University of Oxford focused on exclusion from school.
He has previously been chair of governors at a south London primary school, chair of Naz Project London, a trustee of Stonewall, and a member of the Commission on 2020 Public Services. He is currently a trustee of the Baring Foundation and a member of the Commission on Civil Society and Democracy. Until 2014 he was a trustee of the Equality and Diversity Forum.
Publications include Home Alone: Unaccompanied Minor Return to Somaliland (2010), Right to Divide? Faith Schools and Community Cohesion (2008), Identity, Ethnic Diversity and Community Cohesion (Sage: London 2007), Britain: Challenges for Race Equality (2006) and Connecting British Hindus (2006), and the film Number Games: Race Equality in the Big Society (2011).