Distinguished friends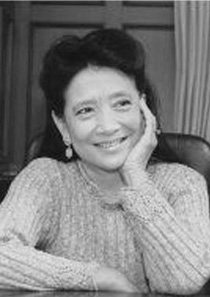 Dr Jung Chang
Born in Yibin, Sichuan Province, China in 1952, Jung Chang was a Red Guard briefly at the age of fourteen and then worked as a peasant, a 'barefoot' doctor, a steelworker and an electrician before becoming an English Language student and, later, an assistant lecturer at Sichuan University.
She left China for Britain in 1978 and was subsequently awarded a scholarship by York University, where she obtained a PhD in linguistics in 1982 – the first person from the People's Republic of China to receive a doctorate from a British University. She has since also been awarded honorary doctorates from the universities of Buckingham, York, Warwick and the Open University.
Jung Chang's book, Wild Swans – Three Daughters of China, has been translated into 30 languages and has sold over 10 million copies world-wide, reaching no. 1 in over a dozen countries, including Japan, Britain, Australia, Brazil, Germany, Holland and Scandinavia.
Wild Swans has won many awards, including the NCR Book Award UK (1992), UK Writers' Guild Best Non-Fiction (1992) and Book of the Year UK (1993). It is the most widely read book about China this century.
Jung Chang's work, Mao: The Unknown Story, was co-authored by her husband, the historian Jon Halliday and is also a best-seller. Her most recent work, Empress Dowager Cixi: The Concubine who launched modern China was published in 2013.