22 November, 2017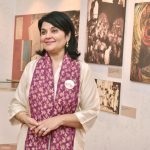 The 70th year of Indian independence inevitably recalls Partition and the violent division that followed it. In a lecture that considers the lessons for other countries facing similar divisions, Kishwar Desai talks about establishing the Partition Museum in Amritsar, and considers whether partition and division are ever reparable.
Click here for more information and to book tickets from 10am on November 15.
Speaker:
Lady Kishwar Desai is an author and columnist and chair of the Arts and Cultural Heritage Trust, which is responsible for creating the Partition Museum, dedicated to the memory of the Partition of the Indian sub-continent in 1947.
Chair:
Susheila Nasta is emeritus professor of modern and contemporary literature at the Open University.